DynamicPDF Core Suite for .NET Help Docs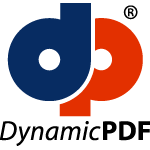 This documention contains help for the DynamicPDF Core Suite for .NET product. DynamicPDF Core Suite includes our previous DynamicPDF Generator for .NET, DynamicPDF Merger for .NET and DynamicPDF ReportWriter for .NET products. DynamicPDF Core Suite for .NET includes functionality to create, merge and work with existing PDF document as well as quickly and easily create PDF reports. It is avaiable as part of one of our subscriptions or as a perpetual developers license and offers royalty free distribution.
DynamicPDF Core Suite Namespaces
The DynamicPDF Core Suite for .NET utilizes the below namespaces. Core Suite is offered in two editions: Essential or Full. Please note that certain namespaces or some classes within certain namespaces are not included with the Essential edition of DynamicPDF Core Suite.
For a complete list of features included with each edition please refer to our Feature Chart.
Help Topic Table of Contents
Getting Started
PDF Document Creation

My First DynamicPDF Document
Page Elements
Charts
Images
Advanced Topics
Digital Signing and Certifying

Merging and Working with Existing PDFs
Creating PDF Reports (Layout Engine)