This is BETA documentation and is not yet complete
DynamicPDF CoreSuite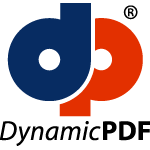 This document contains help for the DynamicPDF Core Suite for .NET product that includes DynamicPDF Generator for .NET, DynamicPDF Merger for .NET and DynamicPDF ReportWriter for .NET. Click on any of the following links to learn more about getting started and programming with these products:
The DynamicPDF CoreSuite for .NET allows users to get our core DynamicPDF products bundled together at a reduced cost. It is offered in the same license models as our other products including Server and Developer licenses but can easily be managed with just one serial number.
Regardless of the licensing model (Server or Developer), the DynamicPDF Core Suite v11 for .NET is also offered in both Professional and Enterprise editions. Each edition differs only by the feature set that is included within it.
DynamicPDF Core Suite Namespaces
The DynamicPDF Core Suite for .NET utilizes the below namespaces. Core Suite is offered in two editions: Professional or Enterprise. Please note that certain namespaces or some classes within certain namespaces are not included with every edition of Core Suite.
For a complete list of features included with each edition please refer to our Feature Chart.